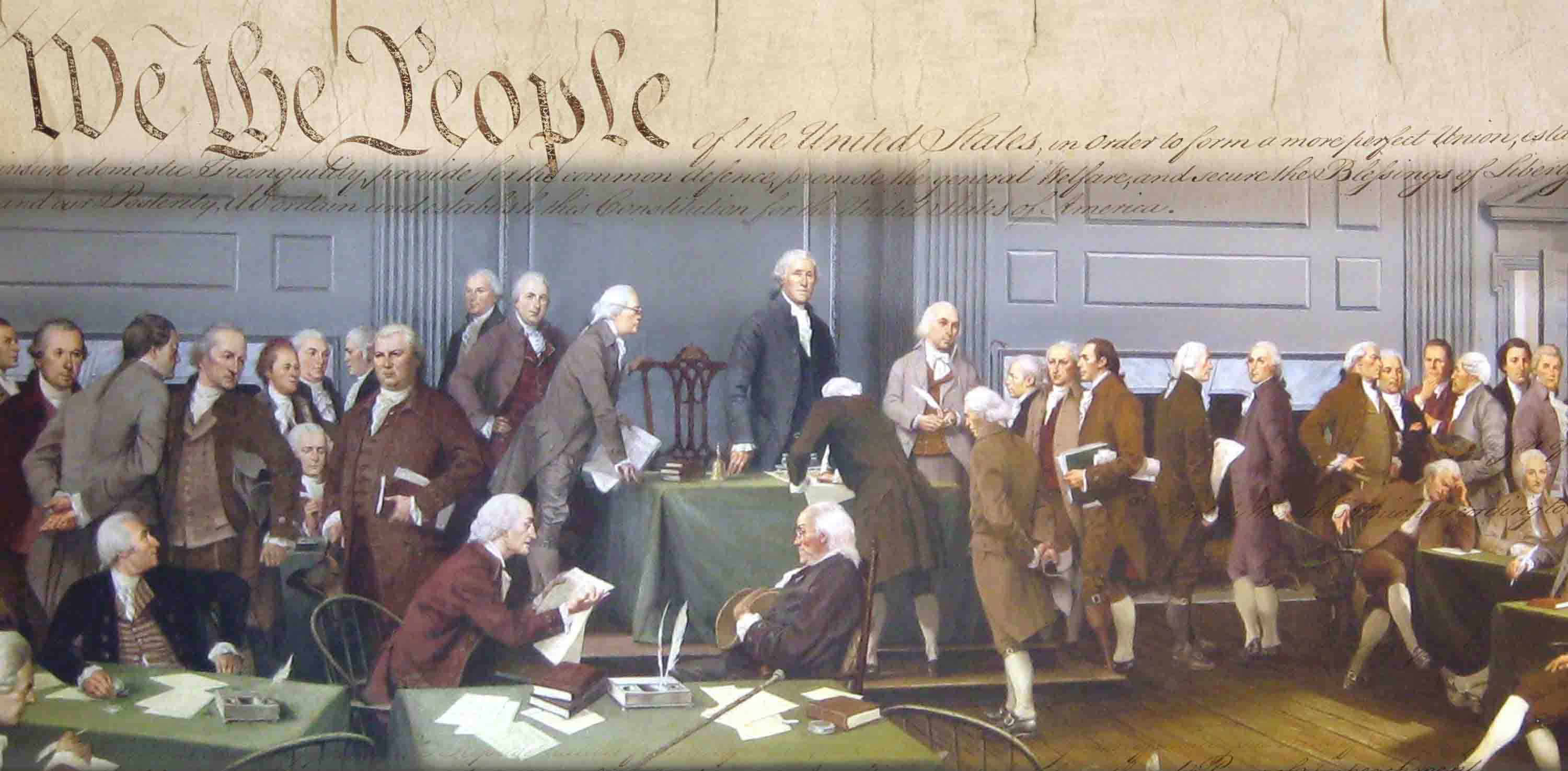 The National Finals is the culmination of the tremendous effort of teachers, students, parents, and We the People state coordinators to secure community sponsors. Local fundraising helps to cover the student travel costs associated with attending the competition and participating in the five-day educational program in Washington, D.C. Nearly $2,000,000 will be raised by 56 communities to support the event this spring.

We would like to thank the Fund for Freedom and Democracy for their continued support for classes attending the We the People National Finals. The fund is named in honor of Justice Patricio Serna of the New Mexico Supreme Court.

30th Anniversary National Finals Class Sponsors


Alaska: West Valley High School, Fairbanks
Rasmuson Foundation, SBS Retirement Consultants LLC, West Valley High School PTSA, H&R Block, Fairbanks Nissan

Arizona: Reno High School, Reno
Arizona Children's Academy, Brighton Dental Health, Anantuni Family Dental

Arizona: Incline High School, Incline Village
Janet McKeithen, Erin Murray, Jennifer Dubois, Anne and Sharon Schrage, Eric Strotz, Mindy Wegener, Michael Hope, Christopher Stenzel, Oliver Luxury Real Estate, Tracy Iris Saunders, Amarpal Singh, Nancy MacGregor Hill, Lawrence Carver, Charlotte Welco, Roy MacGregor, Nancy Barrett, Julia Golombik, Daniel Fitzpatrick, Patrick Murray, James Behnke, Bonnie Broxton, Paula Sagan, Donald Frei, Kathleen E Martin, Bridget Cornell, Jennifer Eckert-Toler,  Suzanne Batmale, Denise Bremer, Parasol Tahoe Community Foundation/Ashley Quinn Fund, Andrew & Debra Larson, Roger & Aida Schneider, Mike Wells, Christopher Stone, Eileen Whalen & Robert Heilig, Shirley Altick, Jere & Diane Bremer, Parasol Tahoe Community Foundation/ Jim and Patti Clark Fund, Kelly & William Dietz, Rotary Club of Incline, The Solomon Foundation, Virginia Gollery & Sharon Cart, Everett W Jacobs, Michael and Kathie Goldberg, Thomas Whalen, Kevin and Kristin Flynn, Alyssa Flynn, Mourelatos Lakeshore Resort, Incline Boosters Club, Stephan & Nancy Porten, Suzanne & Martin Gollery, Patricia Mourelatos, Lake Tahoe Resorts, INC., DBA Inn at Incline, Incline Tahoe Glass, Incline Village/Crystal Bay Republican Women, Lorri Waldman, Lavell Bates, Lakeshore Realty, The Plastiras Family, James & Linda Cronin, Richard & Hattie Stone, Vomund Investment Service, Smith Foundation, Linda & Mark Newman, Mary Danahey & Barry Golombik, Richard & Linda Offerdahl, Mark Smith, Thomas Lahey, Ted Fuller, Kevin & Joanne Devine, John & Ellen Whitesell, Ashley Nikkel, Judith Buckingham, Milton and Mary Hyams, Meldon & Janice Iida, Morris Cohn, Michael Durand, Barbara Longshore, Lake Tahoe School Student Council, Pamela Sheldon, Carmela Carter, Jane Dykstra, T's Mesquite Rotisserie, The Swing Family, AAUW Tahoe Nevada Scholarship Account, Fuller Family Foundation, Paul & Linda Smith, IHS Boosters/Crab Feed, Tim & Holly Racich, Pam Ramos, Sharon Volis, Edward & Cornelia Gould, Douglas Adcock & Dorothy Harrison-Brown, Glenn Annin, Herman John Jansen & Patricia Jansen, Scott & Christie Stranzl, Eric Jean-Pierre Ewald & Tessie Vukovich, Gene Pretti and the Pretti Family, EXL Media Corp., James & Danielle Basinger, William & Jill Minkle, WTP Class of 2002: Knights of Columbus & Our Lady Queen of Peace Council, DBB Holdings, Dan Brower, Kathryn Brower, Tara Meyer, Bryan Thurman & Elizabeth Allison Thurman, Samantha Swing, Susan & David Kelly, T Michael & Marolyn Vadnais, Bervid Custom Building, John Gregory & Mary Fenelon and the Gregory Family, Gail & Michael Shumate, Charlotte & Chester Curtis, Ann Bibolet, James & Laurie Power, James Bernert, Harry & Mary Jane Swenson, Linda & Patrick Lynch, Thomas & Nancy Henderson, Frank & Virginia Murnane, Teresa Eppolito, David & Joann Snyder, St. Francis of Assisi Parish, Cristina & Leroy Hennessey, Alexander Mourelatos, Karin Eames, Sherrill Hedges, Kay Lehr, Rotary Club of Tahoe-Incline, Doug Adcock, Mike Menath, Thalia Routsis, Jeff Sheldon, Swarn Singh, Dale Smith, Rob Vinson, Sue Welsch, Robert Purdy, Dell & Shirley Rowley, Secured Document Search, Bridgette Johnson, Tracy & Chris Cohn, NuLeaf, Eli Scislowicz, Robert Green, Barbara Fitzpatrick, Sandra Cloninger, Jeremy Goldberg, Martin & Leigh Hlavaty, Jon Miller & The Miller Family, Incline High School Principal's Fund, Comstock Village, Jeff & Mary Collins, Hopkins Family, Marc Goodman--Lyon County Attorney, ERG, Clint Bowyer Autoplex, Jim and Keeley Persinger, Edward Jones--John Newland, Greg and Donna Seibel, Citizens State Bank, Sunshine Coalition, Valu-Net, Presti Family, K.B. Thomas, Emporia Rotary, Kellie Bulson, Emporia Optimist, Jane Reeble Foundation, Hispanics of Today and Tomorrow, John C. Patton DDS, Laurent Charitable Family Fund, Sons of the American Revolution--Kansas, Emporia Rotary, Fred and Paula Neuer Trust, Modern Air, Hannah Ortho, Gerald Schumann Electric, Havenhill Family, Kansas Council for the Social Studies, Emporia Kiwanis Club, and Applebees

Maryland: Boonsboro High School, Boonsboro
American Legion Auxiliary Post 10, American Legion Post 10, American Legion Post 239, Antietam Cable Television, Battleview Market, Bruce & Nikki Gipe, Cheryl & Clark Sharpless, Delegate William Wivell, Family Style Pizzeria DBA Ledo's Pizza, Hagerstown Honda, Keedysville Ruritan Club, Kings New York Pizza, Mountain Spirit Yoga LLC, Mr. & Mrs. Frank Carden, Red Byrd Restaurant, Rorhersville Ruritan Club, Senator Christopher Shank, Sharpsburg Pharmacy, Sons of American Legion Post 10, South Mountain Family Practice, South Mountain Women's Health Center, Terrianne Ridenour, Walter (Tom) Connelly at Connelly Drilling, Washington County League of Women's Voters, Wilson Ruritan Club

Michigan: Marquette Senior High School, Marquette
WTP Team Parents,Anonymous Donors, L.G. Kaufman Foundation, Upper Peninsula Health Plan, Max and Phyllis Reynolds Foundation, Marquette Exchange Club, Marquette Breakfast Rotary, NMU Department of Teacher Education; Kendricks, Bordeau, Adamini, Greenlee & Keefe; Priscilla Burnham Law Office, Marquette Elks Club, Marquette American Legion, Superior Oasis Lodging, Stephenson National Bank, Jennifer Mazzuchi, Ken & Maura Davenport, William & Lois Ralph, MSHS Class of 2017, MSHS Key Club, MSHS PTSO, Carol Cole, Karen Eldecvik ,Howard & Suzanne Harding, Jean & Bill Hetrick, Mark Miles, Anne Silverman, Maitri, Milli, & Michael White, Carol Wolfe, Marquette County Bar Association, Robert and Nancy Railey, MANY, MANY small donors

Nebraska: Southeast High School, Lincoln
Nebraska State Bar Foundation, James & Pamela Hastings Carrier, Lincoln Southeast Fund for Excellence, Foundation for the Lincoln Public Schools Fund-a-Need Campaign

New York: Forest Hills High School, Forest Hills, NY
NYCDOE, Justice Resource Center, Inc., Axe-Houghton Foundation

North Carolina: Raleigh Charter High School, Raleigh
Araneda and Stroud Immigration Law Group, Issam El Baytam and Sabah Hassan, Howard and Noelle Browne, Paul T. Flick, Sharon and Alan McConnell, Nichols Law, PA, Willis P. Whichard

Rhode Island: North Smithfield High School, North Smithfield
Rhode Island Senate Legislative Grant, Rhode Island We the People: Mike Trofi and Carlo Gamba, The Fund for Freedom and Democracy, The Cianci Family, Tom and Elaine Mandeville, Joanne Forti and Touchstone, Perkins Grant, North Smithfield Town Council, North Smithfield School Committee, Woonsocket Lions Club, Gator's Pub, Sir Speedy, North Smithfield Teacher's Association, Village Paint & Decorating, N.S. Dress Down Fund, Leeway Hardware, Friends of Brian Newberry, Battlegroundz, Chelo's Restaurant, Uncle Ronnie's Red Tavern, Cavanagh
Company, Great Road Auto Sales, Center for Civic Education, National Lumber, Dick Witcher and Minuteman Trucks, Inc., Village Haven, Diana Gamache, Jean Meo, Davenports Restaurant, North Smithfield Democrats, Woonsocket Police IBPO Local 404, Cote Landscape Construction, Sound Force Unlimited DJ Service, Cabinet Gallery, Sister Act Salon, NRI Realty, LLC, Cool Air Creations, Inc., R & M Auto Repair, Senator Marc Cote, Muni-Tech Inc., Cercle Laurier, Inc, United Rentals, Just for Dogs, Cote's Auto body, Stanley Tree Service, Anchor Subaru, Paul Zwolenski, Margaret Watkins, LuLaRoe ~ Sharon and Casey's Boutique, Super Fun Activities Club

South Dakota: Spearfish High School, Spearfish
Mr. Lennis Larson, Dr. Pamela Carriveau, Dr. Timothy Martinez, Dr. John Van Benthuysen, Mr. Eric Nies*, Spearfish School District 40-2, Spearfish Foundation for Public Education, Black Hills State University Chiesman Foundation for Democracy, Spearfish Optimist Club, Guadalajara Restaurant, Williams & Associates, Rapid City Regional Hospital, First Interstate Bank, Spearfish Eye Care Center, Dr. Steve Guiseffi*, Pioneer Bank & Trust, Stadium Sports Grill, Mrs. Lonna Jensen, Zonta Club of Spearfish, Dana Dental Arts, 1LT Paul M. Gainey*, Black Hills Federal Credit Union, South Dakota Fraternal Order of Police, Mr. Clark Sowers, pearfish HS Student Council, Mr. Ben Larson*, Black Hills Physical Therapy, Mrs. Mary Ellen Lantis, Amman & Graslie Dentistry, Robert Crosswait DDS, The Manning Charitable Foundation*, Spearfish Kiwanis, Spearfish Lions Club, Lawrence County Republicans, Perkins Restaurant, Lucky's 13 Restaurant, Mr. Brian Coburn*, Northern Hills Rotary Club, Parents of our students

*Denotes Spearfish High School We The People Alumni

West Virginia: Clay County High School, Clay
Clay County Board of Education, Dave Pierson and Pierson's Lumber, Bruce Cunningham and Cunningham Motors, Greg Gency and Clay County Bank, Gabe Hubbard and Hubbard Dentistry, Clay Rite Aid, Clay Pharmacy, Kevin and Melinda Isaacs, Jeff Krauklis, Bob Ashley, Amron Truss, William and Janet McDonald and BJ Evans and Aridea Solutions

Wisconsin: Wauwatosa West High School, Wauwatosa
American Board of Trial Advocates, American Legion Post 449, Amy and Bill Wick, Anthony Augustine, Brewtown Brewgrass, Cargill Cocoa & Chocolate North America, Carol Wehrley, Centofanti Law, S.C., David and Joan Ross, Dr. and Mrs. Chang, Dr. Glenn and Carol Sondag, Fricker Law Office, Friends of Hoyt Park and Pool, Gary Wehrley, Hetzen Coatings, Inc., Honorable Hannah C Dugan, Husch Blackwell, Ken and Marcia Watters, Kowalski Dental Office , Mark and Marsha Schaefer, Mayfair Rotary Club of Wauwatosa, Meijer Stores, Michael and Shirley Warecki, Mike and Kathy Coleman, Mike Pook, O'Sullivan's Public House, Pet World Warehouse Outlet, Scopelitis, Garvin, Light, Hanson and Feary, P.C, Sons of the American Legion, Sports Clips Haircuts , The Ricochettes, Uptown Motors, Warshafsky, Rotter, Tarnoff and Bloch S.C., Wauwatosa Lions Club, Wauwatosa Rotary Foundation, Wauwatosa School District, Wauwatosa West High School, Wauwatosa West PTA, Wauwatosa Youth Commission, Zimmerman Architectural Studios, Inc.