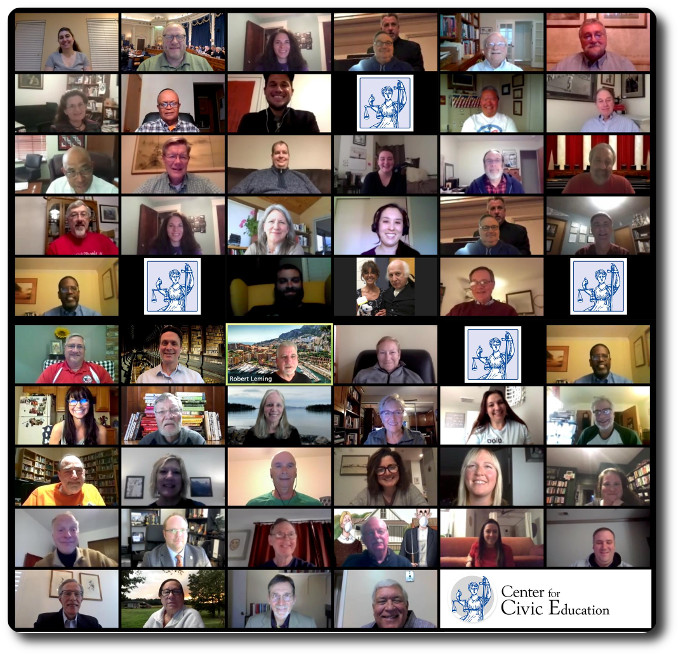 Seventy-two judges from throughout the nation will participate in the 2021 National Finals. To a large extent, the quality of the National Finals depends upon the expertise and demeanor of the judges.

Judges (listed alphabetically)
Robert Allison, Professor of History, Suffolk University, East Boston
Petra Alsoofy, Outreach and Partnerships Manager, Institute for Social Policy and Understanding, Melvindale MI
Barry Anderson, Associate Justice, Minnesota Supreme Court
Michael Anderson, Director of Native American Education, Walker Hackensack Akeley Schools, Walker, MN
Susan Arnett, Deputy Public Defender (ret), Univ. of Hawaii (lecturer in law), Honolulu, Hawaii
Sean Arthurs, Director of Global Education and Training, EarthRights International, Alexandria, VA
Jack Barlow, Charles A. Dana Professor of Politics, Juniata College
Scott Barnhart, Chair of the Board, Indiana Bar Foundation
Jay Barth, M.E. & Ima Graves Peace Distinguished Professor of Politics, Emeritus, Hendrix College
Lester Brooks, Professor of History, Anne Arundel Community College
Jocelyn Broman, Legislative Assistant, U.S. House of Representatives, Arlington, VA
Henry Chambers, Jr., Professor of Law, University of Richmond School of Law, Richmond, Virginia
Augustus Chin, Municipal Judge - Holladay, City of Holladay
LaJuana Davis, Professor of Law, Samford University Cumberland Law School, Birmingham
John DeLoache, Sr. Staff Attorney, SC Assoc. of Counties, COLUMBIA
Robert Dion, Professor of Political Science, University of Evansville, Evansville
Michael DiPierro, Director of Standards, Florida Department of Education, Tallahassee, Florida
Lindsey Draper, Circuit Court Commissioner (Ret.), Milwaukee County, Wisconsin
Nicholas Drummond, Assistant Professor of Political Science, Black Hills State University, Spearfish
Chuck Dunlap, President & CEO, Indiana Bar Foundation
Zach Eastburn, Attorney, Quarles and Brady LLP, Madison, WI
Tim Eigo, Editor, State Bar of Arizona, Phoenix, Arizona
Francene Engel, Constitutional Scholar and Lecturer of Political Science, Maryland Council for Civic and History Education
Susan Firestone, Retired Patent Attorney, Allen County Bar Foundation, Fort Wayne, Indiana
Anitere Flores, Senator, State Senator, Florida (2010-2020), Miami, FL
Kevin Fox, Teacher, CCE Consultant, Arcadia CA
Stephen Frantzich, Dr., U.S. Naval Academy (retired), Gambrills
Maria E. Garnett, Policy Advisor, Virginia Department of Criminal Justice Services, Richmond, VA
Jamie Gass, Director, Center for School Reform, Pioneer Institute, Boston
Evan Gessner, Attorney, Davis Frawley, LLC, Lexington
Benjamin Glickman, Supervising Deputy Attorney General, California Department of Justice
Matthew Gutwein, Retired President and CEO of the Health and Hospital Corporation, Indianapolis
Doreen Hartwell, Attorney, Nevada Center for Civic Education
Charles Hinderliter, Director of Government Affairs, St. Louis REALTORS®, St. Louis, MO
Marcia Holland, Adjunct Professor, Alexander Blewett III School of Law at the University of Montana
David Hudson, First Amendment Fellow, Freedom Forum Institute, Nashville, Tennessee
Timothy Isaacs, Executive Director, The center for Teaching the Rule of Law
Stephen Jewett, County Judge, Ninth Judicial Circuit of Florida, Winter Park, Florida
Caitlin Johnston, SVP, Associate General Counsel, Peloton Interactive
Darcy Kern, Professor of History, Southern Connecticut State University, New Haven, Connecticut
Ali Khan, Attorney, The Law Offices of Ali Khan, Park Ridge
Erin Lagesen, Presiding Judge, Department Three, Oregon Court of Appeals
Susan Leeson, Senior justice, Oregon Supreme Court
Richard Leiter, Professor of Law & Director of the Schmid Law Library, University of Nebraska College of Law
Andrew Levy, Partner, Brown Goldstein Levy LLP, Baltimore, MD
Steve Lindly, Retired criminal justice system administrator, State of Wyoming, Cheyenne, WY
Kurt Mabis, Attorney, United States Air Force
Thomas Mackey, Professor of History, University of Louisville
Tandy McConnell, Teacher, Richland II School District, Columbia, SC
Reta McKannan, Attorney, Reta A McKannan, Esq.
Mariam Memarsadeghi, International Democracy Advocate, (independent)
Mike Miles, County Official, Jefferson County, Al
Anthony Miller, Senior Software Engineer, Apollo GraphQL, Las Vegas, NV
Karen Milton, Executive Deputy Inspector General/Chief of Staff, Office of the MTA Inspector General, New York
Tim Moore, Deputy Director, Center for the Study of the American Constitution
Edmund Murphy, Judge, Pierce County Superior Court, Tacoma
Tim Murphy, Senior Associate Director, Master of Liberal Arts Program, The University of Chicago
Diana Owen, Professor, Georgetown University, Chevy Chase, Maryland
Edward Philpot, Attorney, Edward D. Philpot, Jr. PLLC, Laconia
Liza Prendergast, Vice President, Strategy and Technical Leadership, Democracy International
Beth Ratway, Senior Technical Assistance Consultant, American Institutes for Research, Merton, WI
Donald Rogers, Ph. D., Adjunct Lecturer in History (Retired), Central Connecticut State University
Molly Russell, Staff Attorney, Legal Aid of West Virginia, Morgantown
Julie Silverbrook, Senior Director of Partnerships and Constitutional Scholar in Residence, iCivics
Mark Simons, Attorney, Partner
Candida Steel, Judge, US Civilian Board of Contract Appeals, Judge, retired
Murray Snow, Chief Judge, United States District Court for Arizona, United States District Court for the District of Arizona, Tempe, Arizona
Rebecca Steinhoff, Executive Director, John P. Ellbogen Foundation, Casper, WY
Joseph Stewart, Jr., Professor of Political Science, Clemson University
Daniel Taubman, Senior Judge, Colorado Court of Appeals
Tom Tinder, Executive Director, West Virginia Bar Foundation
Edward Volpe, Attorney, Edward L. Volpe, P. C.
Thomas Vontz, Professor of Education, Kansas State University, Manhattan, KS
Tammy Waller, Director for K-12 Social Studies and World Languages, Arizona Department of Education
Daniel Wong, Member, CCE National Board of Directors, Center for Civic Education
Myron Yoder, M.Ed, Chairman Pennsylvania Professional Standards and Practices Commission, Pennsylvania State Commission
Anne Zinkin, Senior and Supervisory Law Clerk, New Hampshire Supreme Court, Concord, NH

Judges' Resources
| | | |
| --- | --- | --- |
| |   | Judges' Orientation Video |
2021 National Finals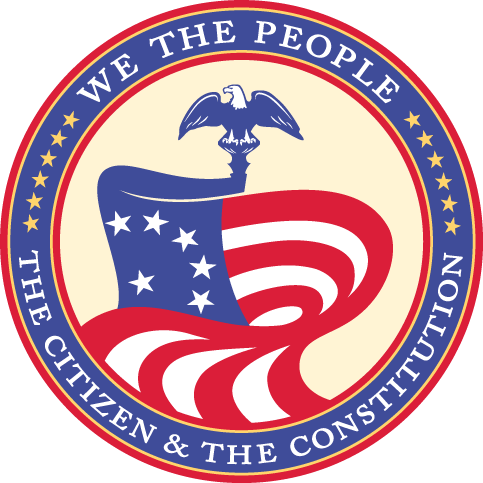 Important Information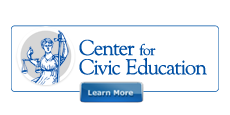 Questions?

Contact Rebecca Reeder at This email address is being protected from spambots. You need JavaScript enabled to view it.
Contact Robert Leming at This email address is being protected from spambots. You need JavaScript enabled to view it.