Online Summer Institute on July 5 to 23, 2021!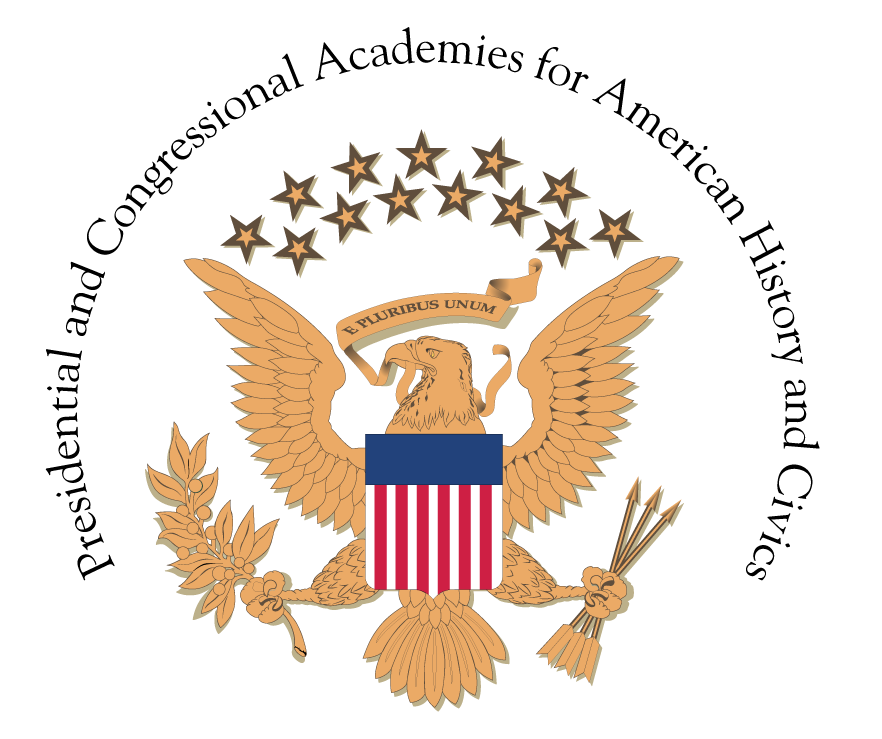 This academy is a grand slam from the students' perspective and the teachers' perspective! The dynamic taking place between the teachers and between the students and all the combinations thereof has made for and continues to make for the most powerful, engaging, and valuable seminar that I have been to in my thirty-year career.
—Presidential Academy participant

The Center's American History and Civic Academies provide teachers and students with high-quality educational engagement. The experience significantly enhances students' civic dispositions related to political interest and attention, political discussion, community engagement, government service, civic duty, and trust in government. Research from the Civic Education Research Lab at Georgetown University demonstrates that students' knowledge of history and civics improve, especially among Title I school students. In 2021, we are taking this immersive experience into a virtual setting! Keep reading to learn more about this free program.

Program Information


What are the Presidential and Congressional Academies?

The Presidential Academy for secondary school teachers and the Congressional Academy for high-need students immerse participants in the study of constitutional history and principles following the intellectual framework of the We the People: The Citizen and the Constitution curriculum.

The Academies begin with a summer institute in conjunction with exemplary scholars and mentor teachers, as can be seen in the 2019 Presidential Academy agenda and the 2019 Congressional Academy agenda. Academies participants have the opportunity to collaborate with their peers and participate in highly interactive discussions and activities, including a simulated congressional hearing. Learning is enhanced with virtual field trips to National Park Service and other historical sites.
Engagement among teachers and students continues during the academic year following the initial institute. The Center hosts online discussion forums for teachers and for students to continue peer conversation as they engage in history and civics activities at their schools. Four webinars are offered after the summer institute to extend the teachers' professional development and benefit students and the general public.

This opportunity is offered to students and teachers throughout the United States with grant from the U.S. Department of Education and matching funds.
What scholars will participate in the Presidential Academy?

- The Honorable Sue Leeson, Associate Justice, Oregon Supreme Court (retired)
- Dr. Jack Barlow, Professor Political Science, Juniata College
- Dr. Francene Engel
- Dr. Vikram Amar, Dean, University of Illinois, College of Law
What scholars will participate in the Congressional Academy?

- GlyptusAnn Grider-Jones, PR & Research Coordinator, McConnell Center
- Dr. Joseph Stewart, Professor of Political Science, Clemson University
- Christopher Riano, JD, President, Center for Civic Education
- Dr. David Hudson, Professor of Law, Belmont University


Who Can Participate?

This opportunity is for high school American history or civics teachers and high school students, preferably going into eleventh or twelfth grade in the Fall of 2021. In order to meet grant priorities, preference is given to teachers who work with high-need students and student applicants who are high-need. Teachers are selected from secondary schools that offer strong administrative support for work with high-need students.

When is the 2021 Institute?

The summer institute will take place online from Monday, July 5 to Friday, July 23, 2021. This will include numerous live sessions with scholars, mentor teachers, and peers as well as asynchronous academic work outside of the live sessions. In addition, for Presidential Academy teachers, there will be four hour-long follow-up webinars with scholars in August and September 2021.


What Will Participants Gain?

- Learning with exemplary history and political science scholars and mentor teachers
- Engagement in research, public speaking, and a congressional hearing simulation
- Interaction with peers from across the country
- Free virtual field trips to National Park Service and historical sites
- Free institute materials and a stipend
-A stipend of $800 for teachers and $300 for students and a certificate of completion.

What are the Expectations of Participation?

Presidential Academy teachers engage with a rich community of teacher-scholars from throughout the United States. Teachers participate in the virtual three-week summer institute at the same time as Congressional Academy students, though most Presidential and Congressional Academy sessions will be separate. After the summer institute, teachers engage in online outreach and follow-up activities with scholars that can benefit their school communities. They participate in an online discussion forum and four online webinars.
They engage with other teachers and students at their school to organize history and civics activities. An academic year "project" (deliverable) may include—but is not limited to—a plan to conduct a simulated hearing in the classroom, adapting lessons and activities from the summer institute for your classroom, and providing aid to students who participated in the summer institute in their presentations to school and/or parent leaders.

Congressional Academy student-scholars participate in a virtual three-week summer institute at the same time as participants in the Presidential Academy. They also engage in follow-up activities during the school year and can continue to interact with fellow participants in a student online discussion forum. Students work with other students and teachers at their school to organize or participate in a history or civics activity. This can include—but is not limited to—participating in the We the People program or National History Day, preparing a PowerPoint presentation to share with the class on the most interesting aspect of the Academy, preparing a presentation to share with the administration of the school and others at a school board meeting or a Parent-Teacher Association meeting, and helping their teacher prepare their classmates to take part in a congressional hearing.

What Costs Are Covered?

The Academies are free for participants! The costs for the Academy are covered by the grant, in addition to generous donations received from throughout the country.

For more common questions, please refer to our Frequently Asked Questions page

Application Information

The 2021 application period has closed. We look forward to offering future opportunities.

Contact

For additional information about the American History & Civics Academies, please contact Maria Gallo at This email address is being protected from spambots. You need JavaScript enabled to view it. or Alissa Irion-Groth at This email address is being protected from spambots. You need JavaScript enabled to view it..

Donate
To help us raise additional support for this valuable and dynamic experience for high school teachers and high-need students consider donating by visiting our donate page.