February 2020 Newsletter
News from the Center for Civic Education
Free Summer Professional Development, Project Citizen Research Program Inaugural Meeting, American Civic Education Teacher Awards, and More in This Month's Newsletter.
Free Summer Professional Development and Student Learning Opportunity!


Apply by April 1 for the 2020 Presidential Academy for high school teachers and Congressional Academy for high-need students. The Academies, taking place at Goucher College on July 11-25, 2020, will engage participants in conversations with scholars and peers, support interactive learning in American history and civics, and include field trips to historical sites in the $char_endash4 D.C., area. 

Learn more and apply.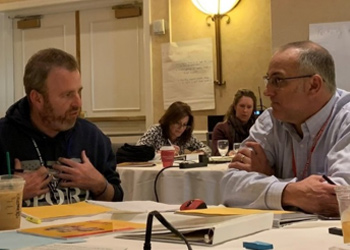 Educators Meet in Los Angeles for the Project Citizen Research Program
Regional coordinators and mentors met in Los Angeles recently to help prepare for the first cohort of teachers of the Project Citizen Research Program. Over a two-day weekend from February 1-2, participants shared their expertise on Project Citizen and professional development. Dr. Diana Owen, professor of political science at Georgetown University, explained the research design of the grant and described the successes of the Center's programs. Dr. Larry N. Gerston, a professor emeritus from San Jose State University, spoke about public policy. Jackie Viana, district supervisor in the Department of Social Sciences at Miami-Dade County Public Schools, provided expert advice on mentoring, and Dr. Marcie Taylor-Thoma, executive director of the Maryland Council for Civic and History Education, described universal design for learning. The entire weekend centered around Project Citizen and developing professional development that was useful and meaningful for the 100 teachers across the country that will be part of Cohort 1 during the 2020-21 academic year.
Learn more.
We're Looking for Stellar Civics Teachers
Everyone remembers with admiration and respect the teachers who made lasting contributions to their education. The American Civic Education Teacher Awards honor elementary and secondary civic education teachers who have demonstrated a special expertise in teaching about the Constitution, Congress, and public policy. The awards are sponsored by the Center for Civic Education, the Center on Representative Government at Indiana University, and the National Education Association. Apply by March 13.
Learn more and apply.
This Women's History Month, Explore Women's Contributions to the Civil Rights Movement
Teach Women's History Month with the Center's free lessons, including "In the Shadows, Agents of Change" (pdf), which introduces students to the brave women who helped drive and sustain the civil rights movement, including Ella Baker, Septima Poinsette Clark, Fannie Lou Hamer, Vivian Malone Jones and others.
Learn more.
Photo: Fannie Lou Hamer
Civitas Bosnia and Herzegovina Updates Civic Education Professional Development
Civitas Bosnia and Herzegovina is working with professors and other education experts to update its civic education professional development, including a focus on Project Citizen and inclusive classrooms. Dr. Marcie Taylor-Thoma of the Maryland Council for Civic & History Education traveled to Bosnia and Herzegovina this month to meet with Bosnian professors and support professional development for Project Citizen teachers and showcase evaluators.
Learn more.
Youth Showcase Project Citizen in South Korea
More than 500 students presented their Project Citizen public policy portfolios at the 10th Annual Festival of Youth Social Participation at Yonsei University in Seoul, South Korea in November 2019. The students represented 3 elementary schools, 32 junior high schools, and 69 high schools.

Quick Quiz! Why is Eliza Lucas Pinckney remembered today? 

A. She was a Loyalist who acted as a spy for Great Britain.
B. She was the first woman to serve in the Continental Army.
C. She faced economic ruin for her strong belief in the American cause. 
D. She encouraged other plantation owners to grow cotton exclusively.

Read on to learn the answer!
Warren E. Burger We the People Class Overcomes Obstacles
Each year, the Center selects the Warren E. Burger class to participate at the National Finals. The class selection honors students from high-need schools that demonstrate a high level of academic achievement. This year's selection is the Chicago Hope Academy led by teacher Brendan Oosse, a We the People alumnus from East Grand Rapids High School in Michigan. Oosse described the challenges his students face: "Our students reside in the roughest parts of west and south Chicago. Gang activity, gun violence, poverty, incarceration, and more are daily realities for CHA and its students. ... Regardless of where our students come from or what they've had to overcome, we are constantly seeing our students succeed. This year's senior class has already seen acceptances to Columbia University, Brown University, the University of Chicago, and more. One-hundred percent of our graduates will be accepted to college." The Center staff looks forward to meeting Brendan and his high-achieving students in April!
Remembering the "Black 14"
Wyoming We the People: The Citizen and the Constitution recently recognized Tom Burman, University of Wyoming athletics director, for his "courageous leadership in promoting the understanding of the fundamental principles embodied in the United States Constitution and Bill of Rights." Burman welcomed members of the "Black 14" back to the Wyoming campus this fall. The Black 14 were a group of football players dismissed from the team in 1969 for seeking permission to wear black armbands in a game against Brigham Young University. The players wanted to protest a policy of the Church of Jesus Christ of Latter-day Saints that prohibited African Americans from holding the priesthood. The church policy was reversed in 1978. The university apologized for the players' dismissal last fall and held a weeklong commemoration of the Black 14.
Learn more.
Photo: Guillermo L. Hysaw (left), a member of the Black 14, with Tom Burman, University of Wyoming athletics director.
In Memoriam: Alita Zurav Letwin
Alita Letwin passed away on January 16 at the age of 87. Letwin served as a senior consultant with the Center for 32 years, conducting law-related teacher-training programs throughout the United States and around the world. A celebration of Alita's life was held in State College, Pennsylvania, on February 2. A celebration in Los Angeles is tentatively scheduled for June.
Learn more.
$24,000 Graduate Fellowships for History and Government Teachers
The prestigious James Madison Memorial Fellowship Foundation is offering $24,000 Graduate Fellowships to individuals to become outstanding teachers of the Constitution in secondary schools. If you're a seventh to twelfth-grade history/government teacher looking to complete your master's degree, apply by March 1.
Learn more.