We the People Enhanced Ebook, High School, Level 3 (Actively Learn Edition)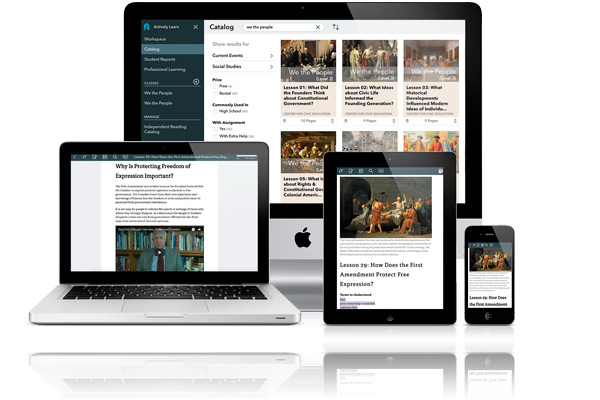 We the People: The Citizen & the Constitution is now available on Actively Learn, an interactive literacy platform that helps teachers activate, support, and reveal student thinking so that every student can read for depth. We the People on Actively Learn features multiple-choice and short essay exercises, embedded videos, audio narration, a dictionary, built-in translation to multiple languages (including Spanish!), support for dyslexic learners, and more.  © 2017. Register for a free lesson today! (Click "Show Me the High School Civics Textbook!," click the lesson, then click "Sign Up, It's Free!")
Low pricing of just $9.00 per user, per year.
Purchase directly through This email address is being protected from spambots. You need JavaScript enabled to view it..

6 Tips for Teaching We the People on Actively Learn >




---






Features

Classroom-proven content (six units and 39 lessons)
Robust classroom-management tools
Data on student performance
Scholar videos
Historical photos
Perfect for flipped instruction
Works on smartphones, tablets, Chromebooks, Macs, and PCs
Many more!

Student Tools

Audio narration
Spanish translation (supports 30 languages)
Change font, background color
Search text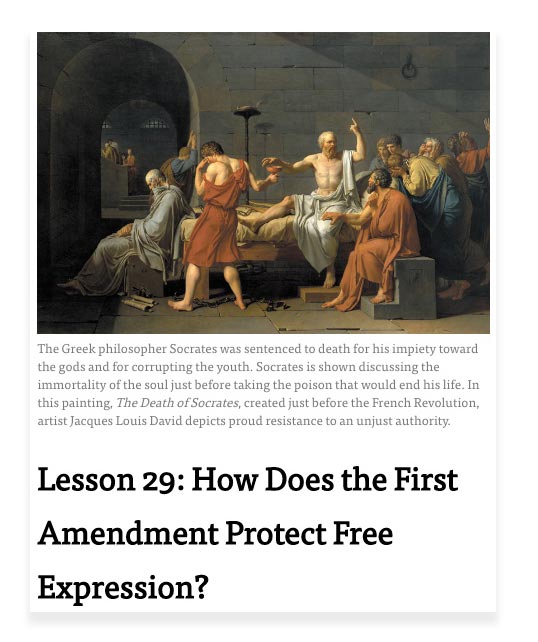 Options for dyslexic learners
Complimentary lesson (click Click "Show Me the High School Civics Textbook!," click the lesson, then click "Sign Up, It's Free!")

6 Tips for Teaching We the People on Actively Learn 

No Apps to Install, Works on Chromebooks and Mobile Devices

Subscribers to We the People on Actively Learn can access their subscription online without installing an app. An internet connection is required for access.

Simple Pricing, Easy Purchasing

Purchase directly through This email address is being protected from spambots. You need JavaScript enabled to view it..

Entire text, one year: $9.00 per user
Purchasers receive access to the Actively Learn Social Studies platform, which allows teachers to use to all three levels of We the People: The Citizen & the Constitution: upper elementary (Level 1), middle school (Level 2), and high school (Level 3). This gives teachers the freedom to choose the text that works best for their students for one low price per user.
Center for Civic Education contact: This email address is being protected from spambots. You need JavaScript enabled to view it.
We the People content questions: This email address is being protected from spambots. You need JavaScript enabled to view it.