Research demonstrates that effective instruction in the We the People curriculum increases students' problem-solving, critical-thinking, decision-making, and communication skills, which are essential to academic success across disciplines and 21st-century work and civic life.
Learn More! Fill out this Professional Development Interest Form or contact your state We the People program coordinator.
What Will I Get?
Free professional development! A total of 52 hours of professional development in a learning community with mentors and other teachers from your state or neighboring states, including a 36-hour in-person summer institute and 16 hours of online academic-year follow up. The next round of summer institutes begin in 2024! (Find a summer institute in your state)
Engaging pedagogy and academic content, centered on the highly-effective We the People: The Citizen and the Constitution curriculum
A network of support and resources for engaging diverse student populations in the history, principles, and current application of the U.S. Constitution
Scholar guest speakers
Access to a library of professional development videos with noted scholars and practitioners cued to the curriculum
Free set of We the People: The Citizen & the Constitution textbooks and teacher's guide
A stipend for completing program requirements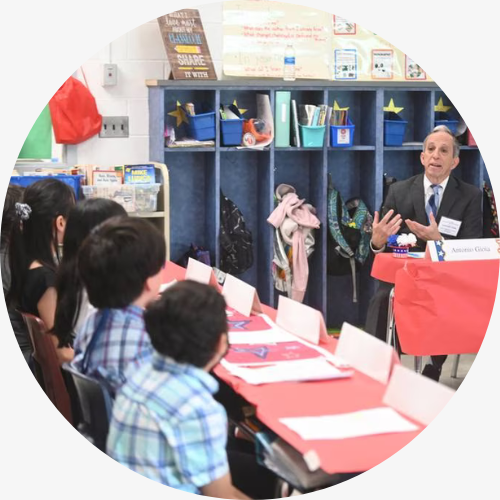 Who's Eligible?
Teachers in grades 4–8
who work with classes of 30% or more high-need students (Title I schools, students of color, students with disabilities, English learners, or other underserved students) with no prior experience participating in multi-day professional development or teaching We the People: The Citizen and the Constitution

Program Requirements
Participate in 52 hours of professional development (36 in summer institute and 16 during school-year)
Implement 40 hours of classroom instruction using the curriculum
Involve students in the simulated congressional hearing instructional activity
Participate in a teacher pre- and post-test
Administer student pre- and post-tests
Want to learn more? Fill out this Interest Form or contact your state We the People program coordinator.


| | |
| --- | --- |
| Summer 2023 Single-State Sites  | Summer 2023 State Partnership Sites  |
| Kentucky  | California & Hawaii |
| Nevada | Indiana, Ohio, & West Virginia  |
| Michigan  | Kansas, Nebraska, South Dakota, & Wyoming |
| Oklahoma  | Maryland, Delaware, & Washington D.C. |
| Oregon | Mississippi & Louisiana |
| Tennessee  | New England (Massachusetts, Connecticut, New Hampshire, Vermont, Rhode Island, Maine, and & New York) |
| Texas | New Jersey & Pennsylvania |
| Virginia |   |
| Washington  |   |
|   |   |
About We the People: Civics that Empowers All Students
This project is funded by a Supporting Effective Educator Development grant from the U.S. Department of Education.
Project Goals: (1) To increase underserved grades 4–8 students' attainment of state civics standards, related literacy standards, and social and emotional learning competencies, (2) to create inclusive and identity-safe learning environments for underserved students in grades 4–8, (3) to support high-quality development for diverse teachers, and (4) to study the effectiveness of the updated and enhanced We the People blended-learning professional development program at improving teacher and student outcomes.
Become part of the We the People network—a nationwide K-12 civic education professional development and implementation network impacting more than 100,000 teachers and 30 million students since inception!