Each concept in the primary level (grades K-2) is featured in an over-sized storybook, an interactive CD-ROM, and a student activity book.

The oversized storybooks and CD-ROMs are Orb and Effy Learn About Authority, Jessica Fish Learns About Privacy, The Zookeeper Learns About Responsibility, and Fair Bears Learn About Justice. These titles are intended for prereaders and include an instructional guide.

The activity books are Learning About Authority, Learning About Privacy, Learning About Responsibility, and Learning About Justice. These books are based on the storybooks/CD-ROM set and may be used with students in grades one and two.

Classroom sets include 15 copies of each activity book (60 books total), a teacher's guide, four storybooks with individual prereader guides, and a set of four interactive CD-ROMs. The interactive CD-ROMs present a complete animated narration of the storybooks in English and Spanish. The Fair Bears Learn About Justice CD-ROM also contains a Chinese version of the narration.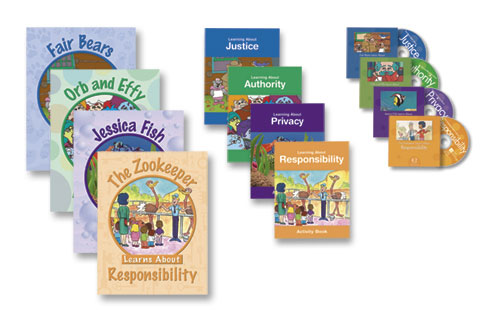 Classroom set: $495.00 each (ISBN 0-89818-186-S)
Teacher's guide: $19.00 each (ISBN  0-89818-204-0)
Storybook: $41.00 each (List of concepts below)
Activity book: $12.00 each (List of concepts below), 10 or more: $11.00 each (List of concepts below)

Storybooks may be purchased as separate sets: one storybook for each concept with prereader guides.

Storybook set: $149.00 each (ISBN 0-89818-208-S)

Storybooks:
Orb and Effy Learn About Authority (ISBN 0-89818-205-7)
Jessica Fish Learns About Privacy (ISBN 0-89818-207-1)
The Zookeeper Learns About Responsibility (ISBN 0-89818-206-4)
Fair Bears Learn About Justice (ISBN 0-89818-208-8)

Activity books
Learning About Authority (ISBN 0-89818-186-0)
Learning About Privacy (ISBN 0-89818-185-2)
Learning About Responsibility (ISBN 0-89818-184-4)
Learning About Justice (ISBN 0-89818-183-6)